Huge Vintage Barbie Doll Lot Dolls And Clothing Vintage And Contemporary Lot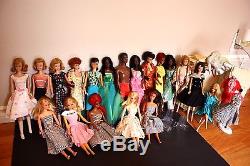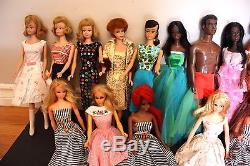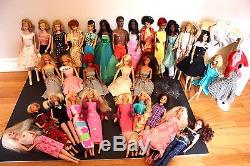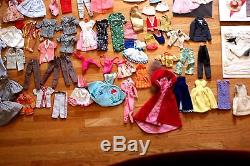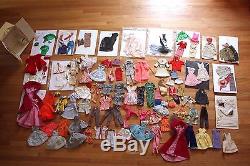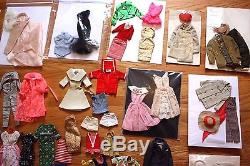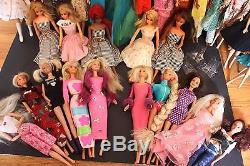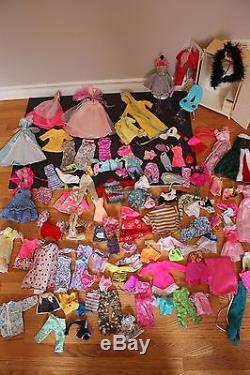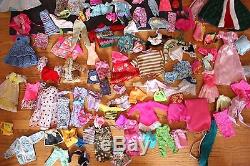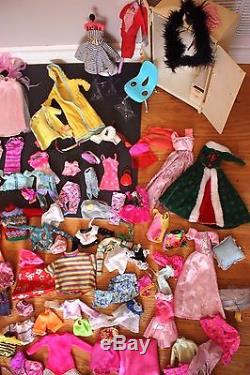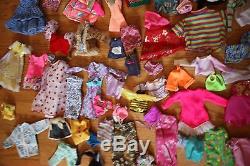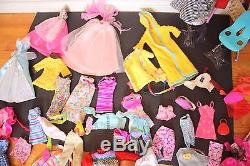 HUGE SENSATIONAL VINTAGE BARBIE DOLLS/CONTEMPORARY DOLLS AND CLOTHING LOT. DONT MISS OUT ON THIS ENORMOUS DOLL AND CLOTHING COLLECTION AS.......................................... SO SIT BACK, RELAX, GRAB A CUP OF COFFEE AND CHILL FOR A MINUTE. AS I WILL TRY AND DESCRIBE TO MY BEST ABILITY WHAT THIS LOT CONTAINS, BEING HUMAN I MAY MISS A FEW THINGS SO BEAR WITH ME.............
BUT PLEASE ASK QUESTIONS AND I CAN UPLOAD MORE PHOTOS FOR YOUR REFERENCE. ANY QUESTIONS OR CONCERNS CONTACT ME................... THERE IS A TOTAL OF 29 DOLLS - 18 VINTAGE MATTEL COLLECTIBLES AND 11 CONTEMPORARY MODERN DOLLS (2 STEFFIE FACE DOLLS IN THIS LOT).
FIVE MIDGE DOLL - EASTER PARADE - GOOD CONDITION, MIDGE WITH CRUISE STRIPES - FAIR CONDITION AS FACE HAS BLUE DOTTED FRECKLES, MIDGE DOLL WITH GARDEN PARTY AND WHITE JAPAN RUBBER BOOTS. GOOD CONDITION, MIDGE WITH AFTER FIVE FAIR CONDITION SOME PURPLE SPOTS ON ONE LEG OTHERWISE NICE, MIDGE DOLL IN GOLD INTRIGUE - TLC. BRUNETTE HAIR BUBBLE CUT IN GOLDEN ELEGANCE GOOD CONDITION, GOLDEN ELEGANCE EXCELLENT CONDITION.
LIGHT BROWN HAIR BUBBLE CUT - EVENING SPLENDOUR GOOD CONDITION. TWO LIVE ACTION PJ - FAIR TO GOOD AS ONE DOLL HAS A LOOSE HEAD THAT SWIVELS LOOSELY THE OTHER IN GOOD CONDITION. THEY ARE WEARING COTTON CASUAL AND GARDEN PARTY BOTH DRESSES IN NICE CONDITION.
LIVE ACTION BLACK HTF DOLL WEARING SENIOR PROM THE DRESS IS IN CLOSE TO MINT CONDITION. THE DOLL HAS TINY SCRATCHES ON HER CHIN. SHE HAS 100% OF HER EYELASHES, AND 100% OF HER MAKEUP. SHE IS ABLE TO MOVE FREELY TOO.
BLACK STEFFIE FACE DOLL WEARING HER ORIGINAL GREEN AND SILVER GLITTER OUTFIT - SUPERSTAR ERA. THIS DOLL HAS A STEFFIE FACE AND IS IN FAIR CONDITION AS ONE OF HER LEGS KEEPS COMING LOOSE - HOWEVER THE KNOB IS INTACT AND I CAN POP HER LEG BACK IN AT ANY TIME.
SHE HAS VERY ADORABLE FACE. SHE HAS ALL HER FINGERS AND TOES AND CAN SWIVEL AT HER WAIST HTF - HER BACK HAS A MECHANISM THAT WHEN YOU PULL THE LATCH DOWN SHE STOPS SWIVELLING - RARE DOLL WITH BEAUTIFUL NATURAL SHOULDER LENGTH CURLS.
BLACK HTF MALIBU DOLL WEARING ROMANTIC RUFFLES IS IN GOOD CONDITION. THE DRESS IS IN EXCELLENT CONDITION. SHE HAS 100% OF HER HAIR AND MAKEUP AND HAS ALL HER FINGERS AND TOES AND CAN BEND ON BOTH KNEES. BRAD 1969 BLACK MALIBU DOLL WEARING RED SHORTS.
HE IS A TALKING DOLL BUT MUTE. HE HAS 100% OF HIS MAKEUP, ALL HIS ARMS AND LEGS AND CAN BEND ON BOTH KNEES. BRUNETTE SWIRL TAIL DOLL WEARING FASHION EDITOR IS IN NICE SHAPE. SHE HAS TINY GREEN PIN PRICK ON BOTH EARS. 100% OF HER HAIR AND MAKEUP.
SHE IS IN HER ORIGINAL PONYTAIL. SHE MAY NEED A LIGHT BATH.
THE DRESS IN VERY GOOD CONDITION NICE AND BRIGHT. PJ WEARING SEAWORTHY DRESS IN GOOD CONDITION BOTH DOLL AND DRESS. SHE HAS 100% OF HER HAIR AND MAKEUP AND CAN BEND AT BOTH KNEES. SHE HAS ALL HER FINGERS AND TOES. WALK LIVELY DOLL WEARING DANCING DOLL.
BOTH DOLL AND DRESS IN NICE CONDITION. SHE HAS 100% OF HER MAKEUP AND EYELASHES. HER HAIR IS NICE AND THICK AND THERE ARE TINY PIN PRICKS ON ONE FEET, AND SHE CAN BEND ON BOTH KNEES. BROWN HAIR STEFFIE FACE DOLL WEARING COTTON CASUAL IS IN GOOD CONDITION. SHE HAS 100% OF HER MAKEUP AND HAIR.
SHE IS IN PLAYED WITH CONDITION AND HAS ALL HER FINGERS AND TOES AND CAN STILL BEND ON BOTH LEGS. SHE HAS HER ORIGINAL RING. TWO JULIA DOLL WEARING CARIBBEAN CRUISE AND COTTON CASUAL. ONE DOLL IS PLAYED/USED CONDITION AND IS FAIR AS HER HAIR HAS BEEN CUT VERY SHORT AND SHE IS WEARING A RED HAIR DOLL WIG.
OTHER THEN THAT SHE HAS 100% OF HER EYELASHES, SHE HAS ALL HER FINGERS AND TOES AND CAN BEND ON BOTH KNEES. THE OTHER JULIA DOLL IS NICE CONDITION. THE CARIBBEAN CRUISE OUTFIT IN GOOD CONDITION. THE OTHER DOLL LOT IS COMPOSED OF 11 DOLLS THESE DOLLS ARE CIRCA EARLY 1970'S - 2006... THEY ARE A VARIETY OF DOLLS RANGING FROM CONTEMPORARY TO BABY SPICE.......
PLEASE REFER TO PHOTOS FOR THE DETAILS OF THESE DOLLS. THERE IS A HUGE LOT OF BLACK AND WHITE LABEL CLOTHING WHICH I WILL TRY TO GIVE DETAILS. I COUNTED OVER 115++ BLACK AND WHITE LABEL TAGS. SOPHISTICATED LADY 2 CAPES AND 1 DRESS.
THE FIRST OUTFIT IS MINT THE 2ND CAPE HAS SOME WATER STAINS. TRAIL BLAZER - NEEDS REPAIR UNDER ONE ARM. BARBIE IN SWITZERLAND -NICE NO STAINS OR HOLES.
BUSY GAL - 3 PIECE ENSEMBLE USED/PLAYED - FABRIC NOT AS BRIGHT. WHITE VINYL LONDON TOUR JACKET NICE. MISS ASTRONAUT - FAIR - FADED OVER TIME. THREE COTTON CASUAL - NO HOLES, STAINS, OR TEARS. SATURDAY DATE NIGHT - MINT.
MOVIE DATE X3 - GOOD , AND X1 FAIR = 4 MOVIE DATE DRESSES. GARDEN PARTY - FAIR TO GOOD. FRANCINE GO GRANNY GREEN DRESS - GOOD. SILKEN FLAME - GOWN AND RED VELVET COAT - VERY NICE - MINT.
OPEN ROAD 3 PANTS AND 1 KHAKI CAR COAT - NICE EXCEPT 1 BUTTON MISSING ON COAT. TWO APPLE SHEATH - NICE. THEATRE DATE X2 JACKET, 1 WHITE SATIN BLOUSE, AND 1 SKIRT NICE. PJ PINK JUMP SUITE CROTCHET PINK SKIRT. TWO GOLDEN LAME SHEATH DRESS.
FOUR CAREER GIRL BLOUSE OR JACKET NICE. YELLOW VINYL JACKET WITH LEAPORD FUR. KEN SKIN DIVER ORANGE PULL OVER.
ENCHANTED EVENING DRESS AND FUR STOLE NICE. RESORT SET, SHORTS, RED AND WHITE TOP, KNIT NAVY AND WHITE HORIZONTAL SHIRT. KEN SATURDAY DATE JACKET NICE BUT PANTS NEEDS REPAIR UNDER SEAMS.
INTRIGUE JACKET - FADED GOLD ON ONE SIDE OF JACKET. ORANGE FLAMED JACKET IN MINT CONDITION.
KEN BASEBALL SHIRT AND PANTS NICE. KEN BEACH JACKET RED AND WHITE STRIPED. PJ SILVER SPARKLE DRESS - USED - FADED IN COLOR. GOLD SPARKLING HTF SUPERSTAR ERA SWIMSUIT. SKIPPER RED AND WHITE SWIMSUIT.
2 SKIRTS ONE GOLD AND PINK, 1 KNITTED BLUE AND RED WITH GOLD BELT JULIA SKIRT. PJ ORIGINAL PINK AND ORANGE MOD DRESS WITH FLARED SLEEVES. SENIOR PROM GREEN DRESS MINT CONDITION.
PLEASE REFER TO PHOTOS FOR THE REMAINING VINTAGE BLACK AND WHITE LABEL CLOTHING. PACKAGED CLOTHING SEALED IN PLASTIC. PACKAGED CLOTHING ARE ALL IN NICE CONDITION THEY INCLUDE: SOLO IN THE SPOTLIGHT, ENCHANTED EVENING WITH FUR STOLE, BLACK MAGIC WITH NETTED SHAWL AND SHEATH, OPEN ROAD KHAKI JACKET, PANTS, AND HAT, COMMUTER BLUE AND WHITE BLOUSE, TENNIS ANYONE JACKET AND SHORT TENNIS DRESS, STUDENT TEACHER - NEEDS STITCHING ON THE SIDE, SKI ENSEMBLE JACKET, PANT, RED BOOTS, SKI POLES AND SKATES, CARIBEAN CRUISE, DREAMBOAT COMPLETE SET HAT, SHOES, PANTS, JACKET, SHIRT, AND SOCKS, KEN BEACH WEAR ENSEMBLE JACKET, SHORTS, 2 PAIRS OF CORK SHOES HOCKEY STICK, SORORITY MEETING SHEATH DRESS, COCOA WOOL SWEATER NICE NO HOLES, RALLY DAY - KHAKI WEATHER COAT, AND RED CAP, SAILOR COMPLETE WITH BELL BOTTOM PANTS, PLASTIC WHITE CAP, SHOES, SOCKS, MIDDY WHITE BLOUSE. 11 DOLLS RANGING FROM CIRCA EARLY 1990'S TO 2000 TO 2010.....
THIS LOT HAS OVER 95+ MODERN OR CONTEMPORARY CLOTHING FROM JACKETS, SHORTS, SHIRTS, BALLROOM GOWNS, PANTS, T-SHIRTS, SWEATS. PLEASE REFER TO PHOTOS FOR A BETTER DESCRIPTION. THERE ARE A LOT MORE CLOTHING OF WHICH I DONT KNOW THE NAMES OF BUT SOME HANDMADE AND FACTORY MADE. SOME ARE CONTEMPORARY DRESS TOO FROM THE EARLY 1970'S AND SOME FACTORY MADE IN HONG KONG. ALSO ARE SOME HAND KNITTED OR CROCHET DRESSES TOO.
I will provide a tracking no. The item "HUGE VINTAGE BARBIE DOLL LOT DOLLS AND CLOTHING VINTAGE AND CONTEMPORARY LOT" is in sale since Thursday, July 14, 2016. This item is in the category "Dolls & Bears\Dolls\Barbie Vintage (Pre-1973)\Vintage (Pre-1967)".
The seller is "shoptiludrop64" and is located in Vancouver, British Columbia. This item can be shipped worldwide.