Antique German Revalo Boy on Compo BodyGebruder OhlhaverAdorable Hat & Costume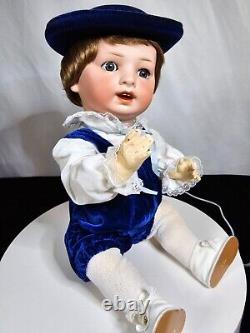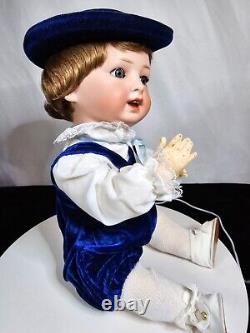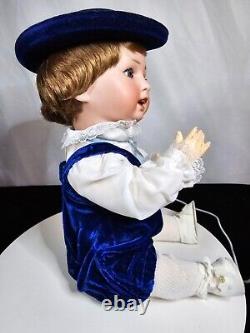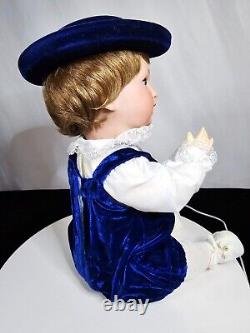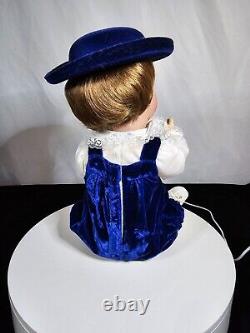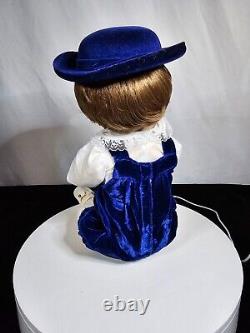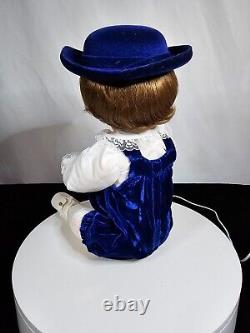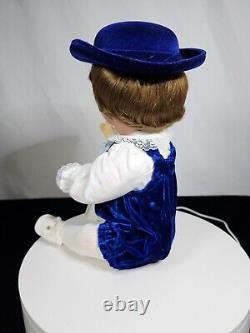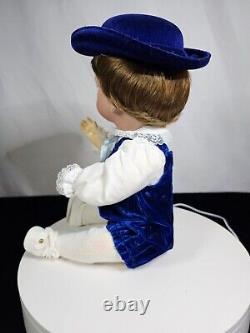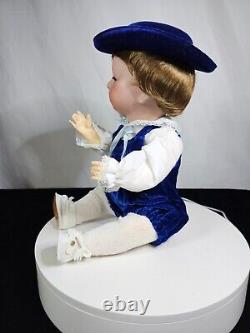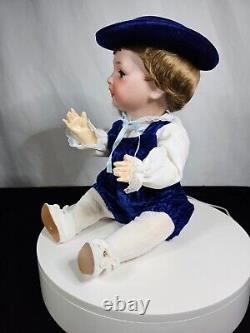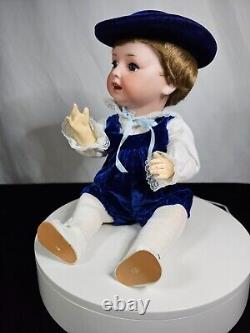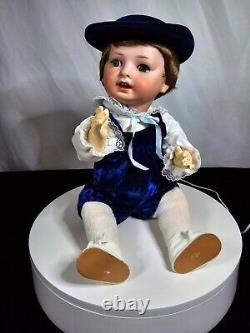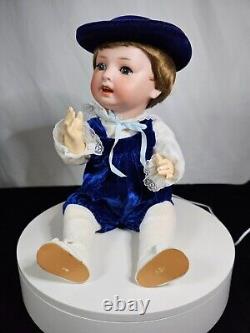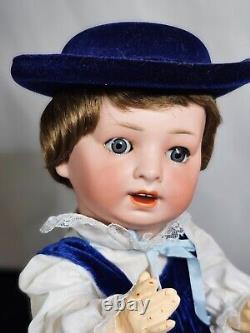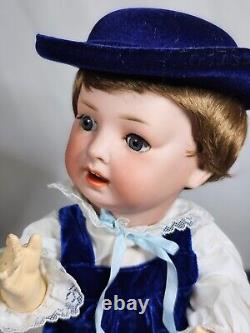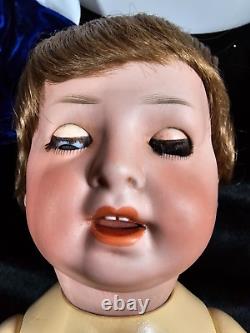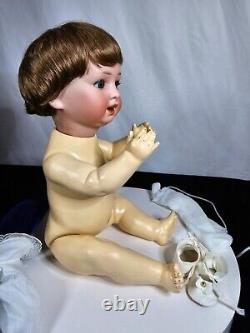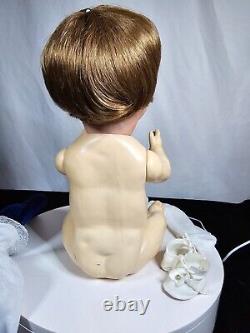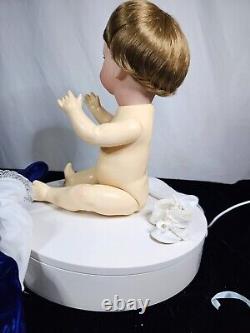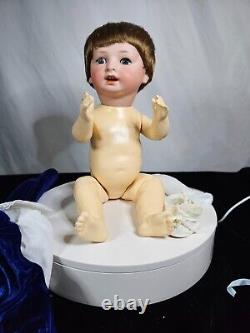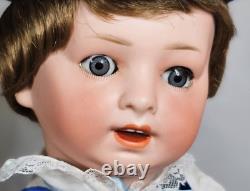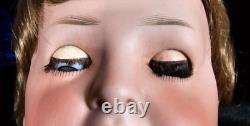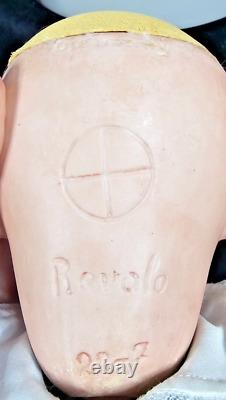 Introducing a Remarkable Antique German Bisque Revalo Boy by Gebruder Ohlhaver! Elevate your collection with this captivating Antique Bisque Revalo German Boy, a true gem from the early 20th century. Exceptional Bisque Head: The heart of this doll is its impeccable bisque head, which remains in pristine condition, free from any repairs or damage. The finely detailed features bring this boy to life, with arched fine-lined multi-swoop eyebrows, delicate lower eyelashes, and rosy cheeks. His expressive open/closed mouth, complete with a painted tongue and two upper teeth, adds to his charm. A Body with Character: While the body may have seen some refinishing, it is a jointed baby body that complements the doll wonderfully. Although we can't confirm its originality to this specific head, extensive research indicates that it is indeed the correct body type for this charming lad.
The body showcases minimal wear on its joints, maintaining its structural integrity. Attention to Detail: Every aspect of this doll exudes attention to detail. His hands feature traditional fine red accent lines, a testament to the craftsmanship of the era. Upper eyelashes on the right eye may need replacement, but it in no way detracts from the overall enchantment of this doll.
Exquisite Costume: Dressed to impress, this Revalo boy dons an enchanting outfit. A crisp cotton shirt with a lace collar and lace edged sleeves, a bow nestled under his collar, a dark blue velvet one-piece jumper, thigh-high white stockings, and white soft booties with ornate gold embellishments create a delightful ensemble. Completing the look is a matching dark blue velvet hat with a stiff brim and crown, adding an extra touch of elegance. Versatile Display: This handsome fellow doesn't require a stand. He sits gracefully, making him perfect for display in your collection, whether for photographs, videos or viewing.
A Glimpse into History: The Gebruder Ohlhaver Doll Company has a rich history dating back to its founding by the Ohlhaver brothers in 1912 in Sonneberg, Germany. The bisque doll heads used in their creations came from renowned porcelain factories, including the Robert Carl doll factory of Köppelsdorf, Thüringia, Germany, which was founded in 1895. A Collector's Dream: This little Revalo Doll proudly bears the Maker's Marks: "Germany, " "X inside a Circle" (symbolizing the Robert Carl Doll Factory), "Revalo, " and a mold number "22-7, " corresponding to the baby dolls produced by the Gebruder Ohlhaver Doll Company.
Don't miss this opportunity to welcome a piece of history into your collection. This Antique German Bisque Revalo Boy by Gebruder Ohlhaver is a rare find that promises to be a cherished addition for any collector.
Secure your chance to own this exquisite treasure today! Make sure to read the condition report on all items in my shop! Any errors or omissions are unintentional and are based on my personal research and knowledge. See the Photos and the Video (if available); they are an essential part of the description. Favorite our Shop as we roll out more Antique and Artist Signed and Artist Produced Original Limited-Edition Dolls in porcelain, latex and celluloid over the following weeks including other reproduction Brus and Jumeaus, Patricia Bjonness-Jacobsen, Heidi Plusczok, Thelma Resch, Kaye Wiggs, Karen McDonald, and Janis Berard among other Doll Artists.
Thank you for stopping by our small business in the Mid-West and Visit Our Store for More Antique and Vintage Finds! This is for your and our safety.
If there is any damage during transit, keep the packing/packages, take photos i. Package, item damage and immediately contact me and the carrier i. In zip lock bags and taping those to the interior of the box. Each product listing will include an inventory of accessories or papers as a part of each listing (see "Set Includes" under "Item Specifics"). This means S&H will take a little longer!
All packages are actively tracked to assure they arrive within the timeline we have agreed upon as part of each listing. These costs are not under our shop's control and are not refundable. This is not something we control.
Our shop can tell how long it will take to get to the nearest international hub but not how long it will take to move out of the hub and be on its way to you. Purchasing Vintage & Antique Items from Us. Please note that much of our inventory comes from auctions, estate sales, and the odd flea market. We are not experts in all things antique or vintage, and, sad to say, we don't know the history of most of the items we sell.
Remember too Antique Items are more than 100 years old and Vintage Items are anywhere between 22 years old to 99 years old. Sometimes age creates issues which we can't control. Best Advice: Read carefully, look over every photo, ask questions and request more photos or more details about an item's condition to satisfy yourself that you are purchasing a product you can be proud of and thoroughly enjoy.
Thanks for choosing to shop with us! We hope you love our stuff as much as we do.
Share the love on social media.