Doll Recast Minifee Siean Elf Bjd Doll 1/4 Fullset Anime manga Cute Kawaii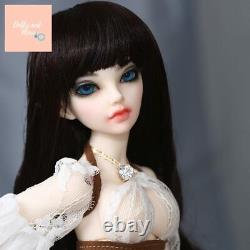 BRAND NEW - UNOPENED - UNUSED - BOXED - SEALED. RECAST Minifee Siean ELF Size:1/4 40cm Material:Made by imported resin material, EU SGS identification. Components: Nude/Nake doll, Default eyes 1 pair, Magic Sponge 1 piece, Clay Options [Additional Charge]: Freestyle Face up, Freestyle Body blushing, Wig, Outfits, Shoes. PS: A pair of eyes are included as gift for each doll, Most of the eyes are acrylic ones, a small part of them are glass ones.
There may be small air bubbles, uneven coloring, raised seam lines and rough surfaces due to the characterstics of tanned or customize skin resin. We'll try our best to make the item arrive on time. As the courier, weather and local custom, maybe sometimes it'll be delayed.
Your understanding will be highly appreciated. Since your feedback is very important to our business's development. Please give us Five Stars if you are satisfied with our products and services. It has the extremely vital significance to us.
We will work with you to solve any problems. Thank you very much for your understanding! Width: 46 x height: 15 x length: 10 x weight: 1.
Soft, Model, Educational, DIY Toy, Mini, Cartoon. 30 days to return & replace an item if it is defective.