My Precious Baby Girl! Berenguer Preemie Lifelike Reborn Doll W Pacifier, Bottle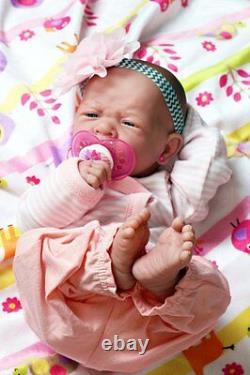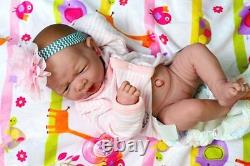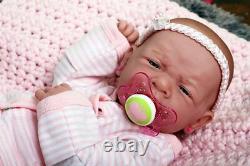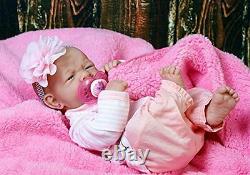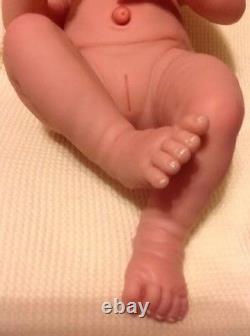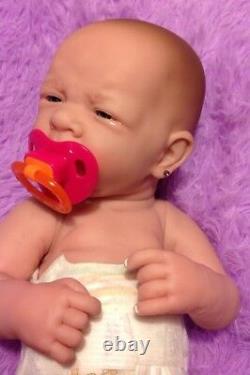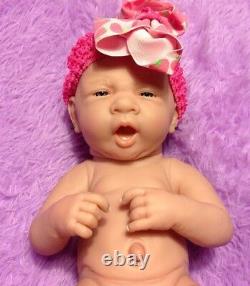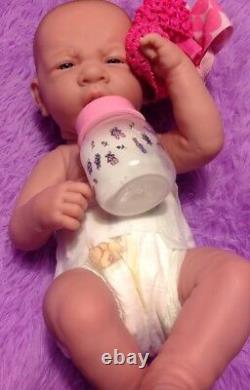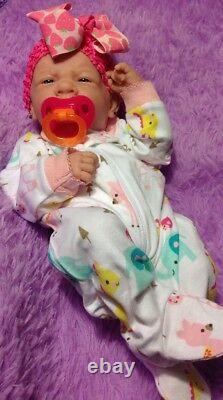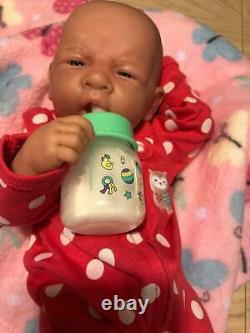 This precious baby maybe the perfect Little Doll for the "little love" in your life or perfect for you to hold, an adorable preemie doll. THESE TEND TO RUN A LITTLE BIG ON HER AS SHE IS ONLY 14 LONG. IMPORTANT IF YOU WANT PIERCED EARS, AND EARRINGS IN THIS DOLL YOU HAVE TO MESSAGE ME IN THE SALES RECORD OTHERWISE SHE WILL COME IN STICKER EARRINGS THAT REALLY DO NOT LAST LONG , THE PIERCED EARRINGS ARE STUDS, NO CHOICE OF COLORS. I SEND A 2 OZ FAUX FORMULA, PRETEND BOTTLE FOR YOUR BABY, YOU CAN'T FEED HER BUT IT'S PRETEND, NOTHING COMES OUT, SHE IS NOT A DRINK AND WET DOLL!! THE PINK BOTTLE DESIGNS CHANGE, THEY ARE ALL CUTE. IT'S EITHER PINK OR GREEN AS SHOWN. THIS BABY IS AN ALL VINYL BERENGUER DOLL CALLED FIRST YAWN. HER VINYL IS NOT AS SOFT AS THE ASHTON DRAKE DOLLS, BUT SHE IS ALL VINYL. SHE IS NOT SILICONE, THE SILICONE DOLLS ARE SUPER EXPENSIVE SHE IS A VINYL DOLL, PLEASE ASK IF YOU ARE UNSURE WHAT A VINYL DOLL IS THANK YOU! SHE IS 14 LONG AND IS A PREEMIE DOLL, SHE HAS A VERY CUTE SKIN TONE, WHICH IS ACHIEVED BY NUMEROUS LAYERS OF CUSTOM MIXED GENESIS HEAT PAINT, WHICH IS DONE BY THE FACTORY, THAT IS WHY I SAY ACHIEVED, THEY PAINT THE DOLL AT THE FACTORY. THIS PAINT IS PERMANENT , BABY WILL HAVE HER NAILS DONE, AND WILL HAVE A CUTE GLOSSED LIPS AND MOUTH , AND GLOSS UNDER HER EYES, SHE WILL BE LIGHTLY WEIGHTED WITH POLY PELLETS AND POLY FIL WHICH MEANS SHE CAN NOT GET WET. SHE IS JUST PERFECT FOR AGES 2 AND OLDER. I ALSO SEND A HEADBAND, WHICH CHANGES COLORS AND A BOW WHICH IS CLIPPED ON, COLOR CHANGES AS WELL. DOLL IS SHOWN WITH HER STICKER EARRINGS, AGAIN I CAN PIERCE HER EARS AND WILL GIVE HER STUD EARRINGS BUT NOT UNLESS YOU MESSAGE ME, IF YOU DO NOT MESSAGE ME DOLL WILL COME WITH PINK STICKER. AND SOME EXTRA STICKER EARRINGS, DOLL IS SHOWN WITH STICKER EARRINGS AND ALSO PIERCED EARRINGS WHICH CHANGE COLOR. THE PICTURES SHOW DIFFERENT OUTFITS, THEN I HAVE ALL ARE SUPER CUTE THEY ARE EITHER FOOTED SLEEPERS OR OPEN FEET SLEEPERS, ALL GIRLY COLORS. THE PACIFIER DESIGN IS EITHER A FULL PACIFIER WHICH IS HARD TO GET SINCE THEY COME FROM CHINA, THEY ARE PINK ORANGE GREEN OR PURPLE. ALL ARE CUTE AND FIT WELL IN HER MOUTH. BABY GIRL HAS FUSED ELBOWS AND FUSED KNEES THESE AREAS DO NOT BEND, BUT HER HEAD LEGS AND ARMS MOVE, SHE IS MADE THIS WAY TO LOOK LIKE A PREEMIE NEWBORN BABY. AS THIS IS GREAT FOR HER PRETEND FEEDINGS. BABY WILL HAVE 1 HUGGIES PREEMIE DIAPER. 2., BABY WILL BE AN OUTFIT OF MY CHOICE I DO NOT HAVE THE ONE IN THE PICTURES. SHE WILL HAVE THE CUTE 2 OZ BABY BOTTLE PRETEND ONLY SHE IS NOT A DRINK AND WET, NO FORMULA COMES OUT, ITS FAUX NON TOXIC BUT SEALED SHUT. SHE WILL HAVE A CUTE BOW (the designs change). SHE WILL HAVE THE HEADBAND SHOWN. HEADBAND IS SLIGHTLY BIG I PUT A KNOT IN THE BACK OF THE HEADBAND. SHE WILL HAVE THE CUTE EMPTY CATERPILLAR BOTTLE PRETEND AS WELL. SHE WILL HAVE A FULL PACIFIER COLORS CHANGE AS STATED ABOVE PINK, PURPLE , ORANGE , OR YELLOW, OR GREEN, OR THE MODIFIED TIP CUT OFF PACIFIER SHOWN, OR SIMILAR NOT THE SAME DESIGN ALL THE TIME. SHE WILL HAVE A BELLY BUTTON BAND, A VELCRO PINK CLOTH DIAPER, AND HER HOSPITAL ID, ALL IN TISSUE PAPER. THE FIRST PICTURES ARE STOCK PHOTO'S THAT SHOWS THE ACTUAL DOLL, BUT NONE OF THE THINGS SHE COMES WITH THE LAST PICTURES SHOWS THE DOLL AND HER EXTRAS WHAT A CUTIE SHE IS!!! LOOK AT ALL THE EXTRAS I GIVE YOU: THIS DOLL IS BEST FOR CHILDREN AGES OVER 2. AGAIN COMES WITH STICKER EARRINGS UNLESS YOU MESSAGE ME YOU WANT PIERCED EARRINGS IN HER EARS, YOU CAN ALWAYS DO THAT WHEN SHE ARRIVES AS WELL.
SHE IS PACKED IN A PLASTIC BAG TO PROTECT HER FROM THE INK AROUND THE BOX, AND HER EXTRAS ARE IN TISSUE PAPER, I DO NOT DO ANYTHING FANCY FOR PACKING THE DOLL, SO IF YOU WANT TOO YOU CAN REMOVE HER AND FIX HER UP AND REPACK HER IF SHE IS A PRESENT. AGAIN QUESTIONS JUST ASK, MORE PICTURES JUST ASK. The item "MY PRECIOUS BABY GIRL! BERENGUER PREEMIE LIFELIKE REBORN DOLL W PACIFIER, BOTTLE" is in sale since Wednesday, June 27, 2018.
This item is in the category "Dolls & Bears\Dolls, Clothing & Accessories\Dolls & Doll Playsets". The seller is "luvgold" and is located in Fort Lauderdale, Florida.
This item can be shipped to United States.
Country/Region of Manufacture: Spain
Brand/Artist: Berenguer
Doll Size: 15 in
Type: Reborn Doll
MPN: 18505
Doll Gender: Girl Doll
Item Height: 15 in
Brand: JC Toys
Features: Interactive
Handmade: Yes
Material: Vinyl
Ethnicity: Caucasian